I recently visited New York on a family holiday, and didn't dare miss the opportunity to buy some lovely books! Although my parents and sister don't really like reading, I managed to drag them to two bookshops, Barnes and Noble and The Strand. I'm really missing out living in England. I mean, waterstones is good and everything, but Barnes and Noble is on a whole new level! But I have noticed that standard paperbacks in enlgand are smaller than their american equivalents so I tried not to buy any books that I was planning on continuing the series of. We can't have not matching series now, can we?! Quick disclaimer, I've been saving up to buy books on this trip for a long time. I'm not doing this post to show off about the fact that I can buy lots of books and go on nice holidays. I just love seeing which books people buy I thought you might be interested to see what books I've been so eager to show you.
Barnes and Noble
Jonas' world is perfect. Everything is under control. There is no war or fear or pain. There are no choices. Every person is assigned a role in the Community. When Jonas turns twelve, he is singled out to receive special training from The Giver. The Giver alone holds the memories of the true pain and pleasure of life. Now, it is time for Jonas to receive the truth. There is no turning back.
I have never seen this book in England before, but have heard some great things about and hear it us a just read. And with the film coming out pretty soon I thought I may as well get it.
Miss Peregrine's Home for Peculiar Children by Ransom Riggs
A mysterious island. An abandoned orphanage. A strange collection of very curious photographs.
It all waits to be discovered in Miss Peregrine's Home for Peculiar Children, an unforgettable novel that mixes fiction and photography in a thrilling reading experience. As our story opens, a horrific family tragedy sets sixteen-year-old Jacob journeying to a remote island off the coast of Wales, where he discovers the crumbling ruins of Miss Peregrine's Home for Peculiar Children. As Jacob explores
its abandoned bedrooms and hallways, it becomes clear that the children were more than just peculiar. They may have been dangerous. They may have been quarantined on a deserted island for good reason. And somehow—impossible though it seems—they may still be alive.
This book has been the victim of a lot of procrastination. In fact, most people read it so long ago that I no longer commonly see it in my local bookshop. But the
American version is a little bit better than the English version, because it has cooler paper, so I bought it! (Yes, I do notice these things)
The Scarlet Letter by Nathaniel Hawthorne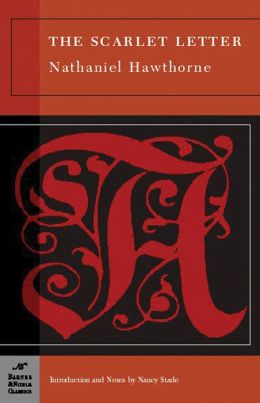 Set in the harsh Puritan community of seventeenth-century Boston, this tale of an adulterous entanglement that results in an illegitimate birth reveals Nathaniel Hawthorne's concerns with the tension between the public and the private selves. Publicly disgraced and ostracized, Hester Prynne draws on her inner strength and certainty of spirit to emerge as the first true heroine of American fiction. Arthur Dimmesdale, trapped by the rules of society, stands as a classic study of a self divided.
I'm aware that this book isn't my normal read, but it does sound very intriguing and insightful. My
english teacher keeps telling me to read it, and because I'm one of those weirdos who likes reading
books with school, I've finally bought the book. Now if I don't read it I can convince myself to,
because I don't want to waste money.
The Host by Stephanie Meyer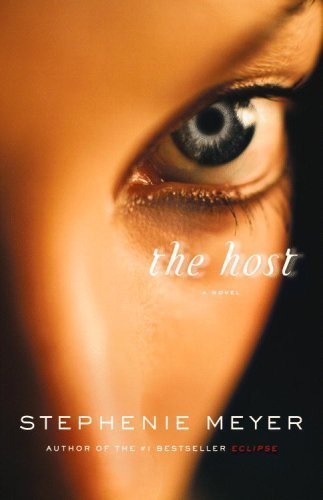 Melanie Stryder refuses to fade away. The earth has been invaded by a species that take over the minds of human hosts while leaving their bodies intact. Wanderer, the invading "soul" who has been given Melanie's body, didn't expect to find its former tenant
refusing to relinquish possession of her mind.
As Melanie fills Wanderer's thoughts with visions of Jared, a human who still lives in hiding, Wanderer begins to yearn for a man she's never met. Reluctant allies, Wanderer and Melanie set off
to search for the man they both love.
Ok, I admit it, I only bought this because it was cheap. R.R.P $25.99 I got it for $4.50. Not bad! It second hand, but I could only tell because of the twilight tattoos tucked inside! I have been meaning to read this, but have put off buying it because of the mixed reviews.
Mr Penumbra's 24 hour bookstore
The Great Recession has shuffled Clay Jannon away from life as a San Francisco web-design drone and into the aisles of Mr. Penumbra's 24
Hour Bookstore. But after a few days on the job, Clay discovers that the store is more curious than either its name or its gnomic owner might suggest. The customers are few, and they never seem to buy
anything—instead, they "check out" large, obscure volumes from strange corners of the store. Suspicious, Clay engineers an analysis of the clientele's behavior, seeking help from his variously talented friends. But when they bring their findings to Mr. Penumbra, they discover the bookstore's secrets extend far beyond its walls. Rendered with irresistible brio and dazzling intelligence, Robin Sloan's Mr. Penumbra's 24-Hour Bookstore is exactly what it sounds like: an establishment you have to enter and will never want to leave.
I haven't really heard of this book before, but then I saw it sitting on a table, and the cover was just begging to picked up! I've read this since and it did not disappoint. Expect a review soon!
The Catcher in the Rye by J.D Salinger
Since his debut in 1951 as The Catcher in the Rye, Holden Caulfield has been synonymous with "cynical adolescent." Holden narrates the story of a couple of days in his sixteen-year-old life, just after he's been expelled from prep school, in a slang that sounds edgy even today and keeps this novel
on banned book lists. It begins,
"If you really want to hear about it, the first thing you'll probably want to know is where I was born and what my lousy childhood was like, and how my parents were occupied and all before they had me, and all that David Copperfield kind of crap, but I don't feel like going into it, if you want to know the truth. In the first place, that stuff bores me, and in the second place, my parents would have about two hemorrhages apiece if I told anything pretty personal about them."
His constant wry observations about what he encounters, from teachers to phonies (the two of course are not mutually exclusive) capture the essence of the eternal teenage experience of alienation
I have been meaning the read this book for a long time, but thought it would be nice to buy it in its place of origin, and I don't see it in England
much. My dad was ver surprised when I said I was going to read it, and told me it was impossible to read. Turns out, he was getting it confused with catch 22!!

Have you read any of these book? Which should I read first? Let me know in the comments!